For first time visitors I recommend
this archive
for some of my best posts.
I need to take a breaking from working on this site so there will not be any new posts for a while, I'm not sure when I'll start posting again.
If you have an item that you are trying to identify, I will be happy to take a look at it.
Feel free to send some photos to me at the address on my
profile page
.
3248.
-The spikes on this item are around 5" long
-The part holding the spikes can freely rotate on the threaded shaft
-There are two mounting holes on the frame
-Turning the handle raises and lowers the spikes, which can all pivot outwards
Take a look at
Neatorama
for more guesses and a chance to win a T-shirt.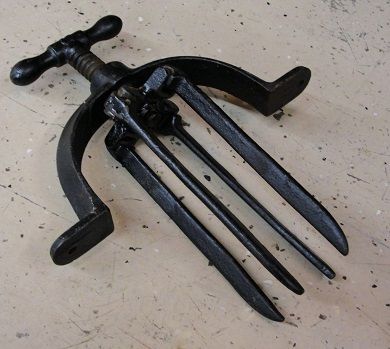 Larger image
Answer:
This item has not yet been identified, if you can supply the answer please leave a comment.
Are you interested in Old Tools and Tool Collecting? Want to learn more about tools, and meet some great people who have the same interests? Please take a minute to check out the Mid-West Tool Collectors Web Site at this link:
www.mwtca.org
.