For first time visitors I recommend
this archive
for some of my best posts.
2593. Approximately 7" square: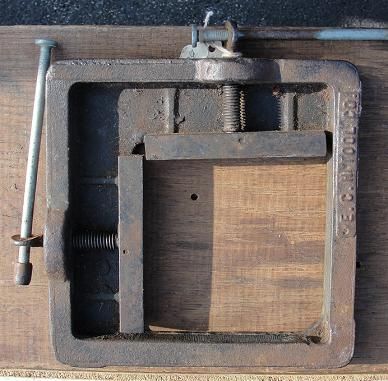 Larger image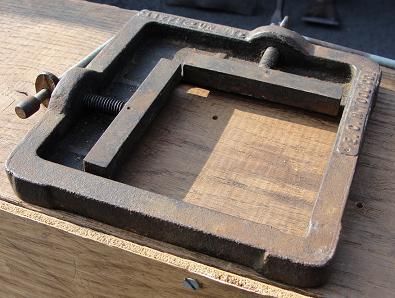 2594. 10" long: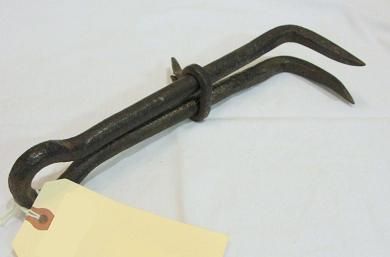 Larger image
2595. This desk was used for a particular purpose: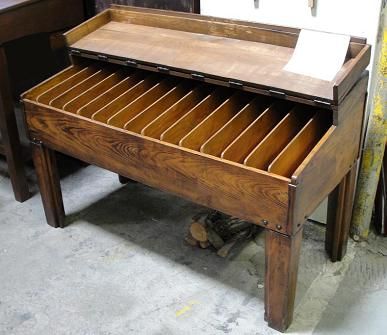 Larger image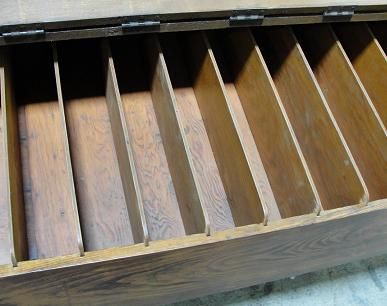 Larger image
2596. 5-1/8 long, take a look at
Neatorama
for more guesses and a chance to win a T-shirt: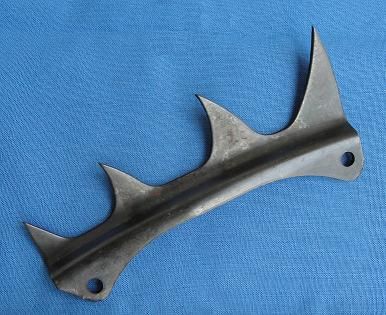 Larger image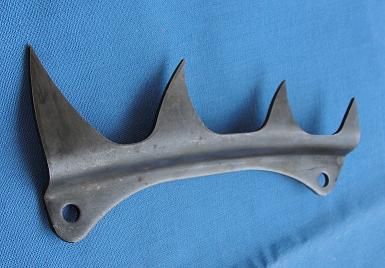 Larger image
2597. About 6" long, sent in by a visitor who is looking to identify this device, their description of it: "It looks like some sort of latching mechanism, currently in the latched position. When the lever is switched it looks like the rounded hole will line up with the two fixed ones."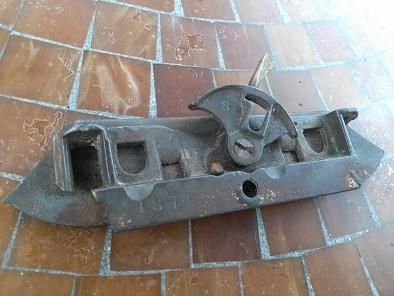 Larger image
2598. Around 12" long: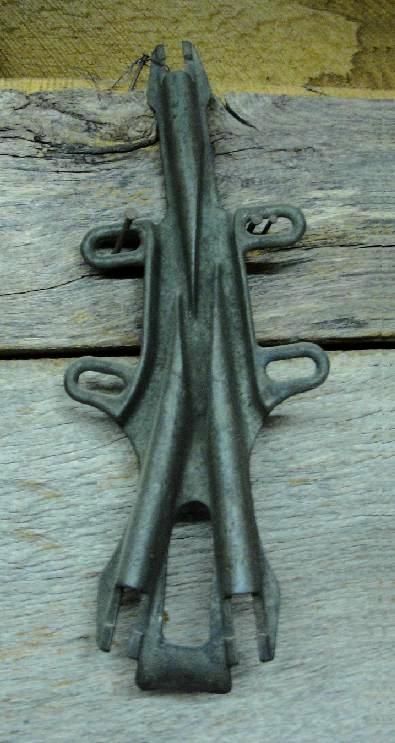 Answers:
2593. This is a "Tile Holding Tool for Use in Tile Cutting" specifically for when making a hole in tile, patent number
2,842,115
: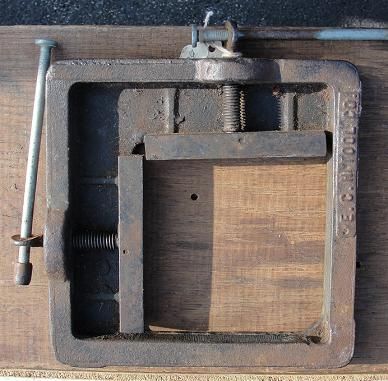 Larger image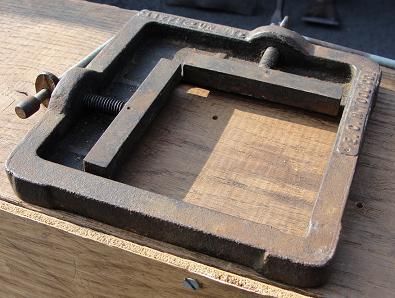 2594. This is a scribe for use when making a log cabin: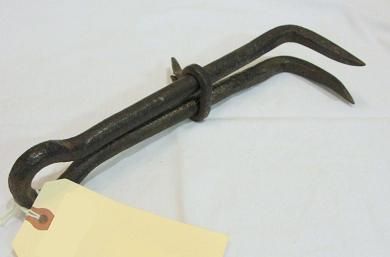 Larger image
2595. This desk was used in a post office in Virginia: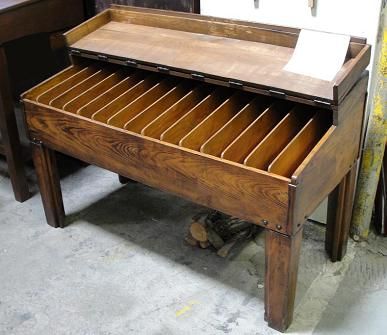 Larger image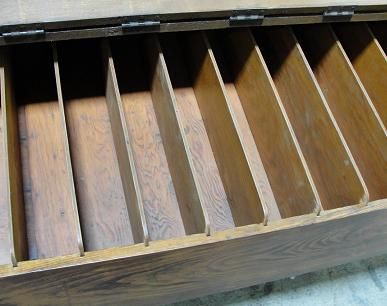 Larger image
2596. A chainsaw bumper spike, or dog bumper, the quote below on how it's used is from
this site
.
"Then place the bumper spikes near the engine firmly against the trunk, and start cutting. Pivot the saw about the bumper spikes and into the trunk, using a fanlike motion and moderate pressure to feed the chain into the wood. It is not necessary to move the saw in a sawing motion: the powered chain provides the cutting action. Pivot the saw, then move the bumper spikes to a new location and continue feeding the chain into the cut. Draw the saw out of the cut slowly and with the chain running. If you must cut without the bumper spikes in contact with the tree, or if the saw does not have spikes, be careful that the saw does not jerk and throw you offbalance when the chain contacts the bark or wood."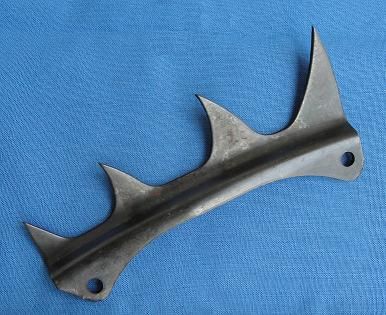 Larger image
The tool in this video is missing the saw but you can see where the spikes are mounted.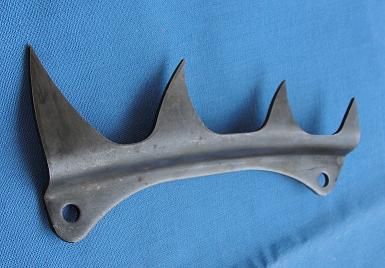 Larger image
2597. No luck yet on this device, the most suggested answer is that it's a latch for an old window or wagon from the 1800s.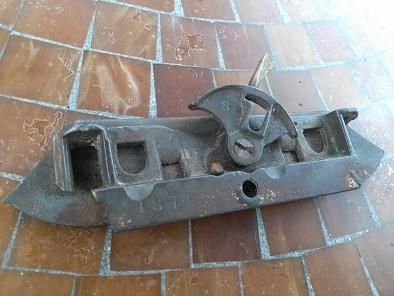 Larger image
2598. This is an overhead trolley switch as seen in
this photo
from a trolley museum.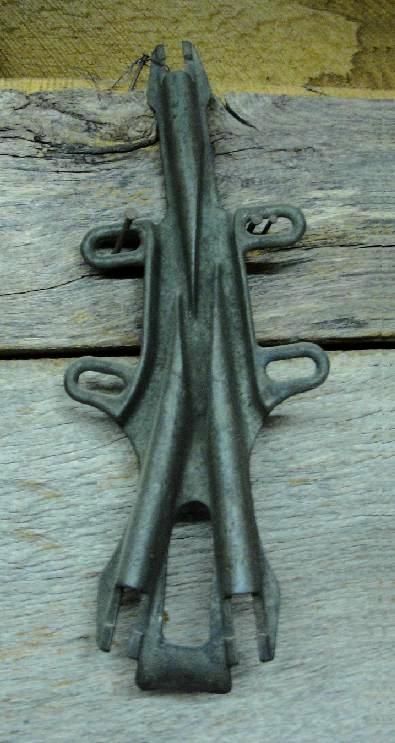 Are you interested in Old Tools and Tool Collecting? Want to learn more about tools, and meet some great people who have the same interests? Please take a minute to check out the Mid-West Tool Collectors Web Site at this link:
www.mwtca.org
.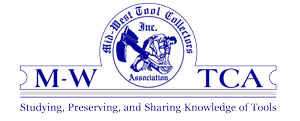 To submit photos, send them to the address in my
profile
, please include dimensions, any text on the item, and where it was found.
Last week's set is seen below,
click here
to view the entire post.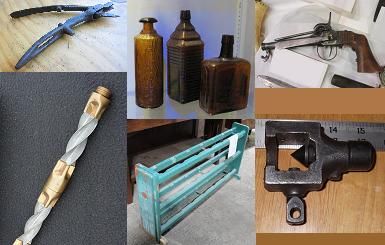 More discussion and comments on these photos can be found at the newsgroup
rec.puzzles
.